Are you troubled that the compact portable handheld POS can't meet the printing needs? If your answer is yes, Telpo's latest-launched POS may glad your heart. Telpo P8 with printer, a mini Android POS with printer, makes you handle payment and printing with only one device!
Compared to Telpo P8, Telpo P8 with printer adds a built-in printer and supports the printing function. Though the functions of Telpo P8 with printer are more comprehensive, it still retains the compact and portable shape of the mini Android POS. Telpo P8 with printer brings payment and printing everywhere, with its advantage of portability and all-in-one design.
Unlock more payment options.
The rich payment methods provided are a distinguished advantage of this mini Android POS. Telpo P8 with printer offers payment options including chip cards, NFC, digital wallets, magnetic stripe cards, and QR codes, which can fully satisfy the payment needs of customers. Multiple payment options ensure checkout efficiency and make customers not leave disappointed.
Full certifications secure every transaction.
Financial certifications are of great importance for an EFT POS. As an Android POS printer, to guarantee the security of every transaction, Telpo P8 with printer has obtained full certifications such as PCI, EMV L1&L2, EMV Contactless L1, Paywave, Paypass, Rupay, TQM, CE, etc. These certifications indicate the reliability of Telpo P8 with printer and users can rest assured.
The built-in printer meets everyday printing needs.
Telpo P8 with printer combines a mini Android POS and a built-in printer. This integrated design makes it unnecessary for users to bring an external printer and provides lots of convenience for users with receipt printing requirements. Telpo P8 with printer supports multilingual printing, image printing, QR code printing, etc., and perfectly satisfies the everyday receipt-printing needs of users.
Compact appearance and powerful performance.
Telpo P8 with printer is an easy-to-carry mini POS printer equipped with a 5-inch display and can be easily grasped with only one hand. Though it has a compact appearance, this mini Android POS has a powerful performance to ensure smooth operation. It runs on Android 10 OS and a quad-core processor and obtains up to 2GB DDR, and 16GB eMMC memory.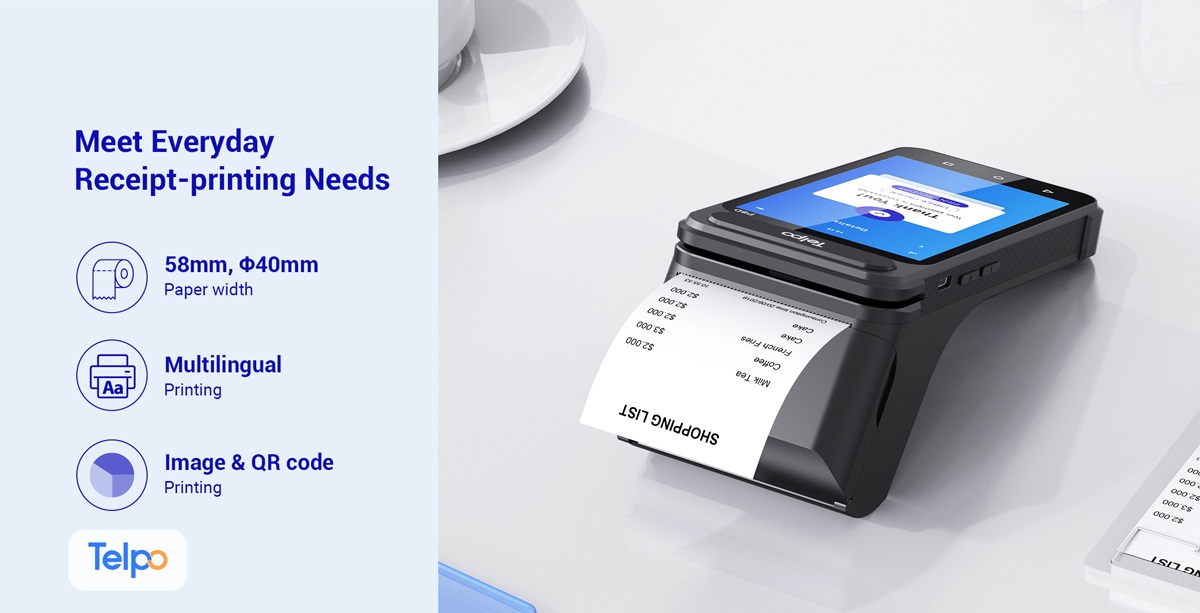 Large-capacity battery and full connections keep it always online.
The Android POS terminal with a large-capacity battery and full communication methods is most suitable to be applied for outdoor businesses to keep the best user experience uninterrupted. The battery of Telpo P8 with printer is up to 3.8V/6700mAh, Li-ion, ensuring a long battery life outdoors. Besides, Telpo P8 with printer enables various communication methods, like LTE, WCDMA, GPRS, WiFi, Bluetooth, etc., making the connections always online.
In addition to reliable POS hardware, Telpo provides a suite of platform services to help Telpo users with efficient device management and better user experience. What Telpo can provide includes Telpo APP Store, Telpo MDM, Telpo OS, etc., which are helpful tools for improving business efficiency.
Telpo P8 with printer, this portable mini Android POS with a printer, is definitely worth it. Don't you have a compact POS terminal that also supports printing? Come to contact us for more details!
Telpo is a smart terminal and solution provider with more than 20 years of experience. Up to now, Telpo products have served customers from 120+ countries and won wide recognition. To better serve customers all over the world, Telpo has set up 1 office (India), 4 branches (Hong Kong, Nigeria, US, Sri Lanka), and 28+ overseas service centers. Telpo has the confidence to boost your business. Welcome to contact us for more details!
Tag: Android POS, mini Android POS, Android POS with printer